The Carolina Yard Barns Story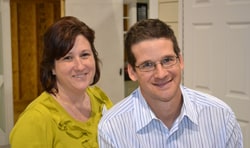 Carolina Yard Barns, LLC was created in September 2005 by Rob and Tara Powell after seeing a growing need for high-quality sheds in the Raleigh and Durham area.
Rob began building sheds for a national shed company in 1997. When this company drastically changed the product they were selling, Rob and Tara decided to go out on their own. Carolina Yard Barns was born, providing customers in the Triangle the opportunity to purchase high-quality sheds at a reasonable rate.
Our Sheds: Space For Your Stuff
At Carolina Yard Barns, our philosophy is to provide storage solutions that will last for years to come. Whether you need a shed that meets HOA guidelines or just want extra storage space, Carolina Yard Barns is your answer. We offer a wide variety of styles, sizing options and siding choices, allowing you to personalize your shed.
Our loyal customers appreciate our dedication to exceptional customer service and satisfaction. We consider ourselves to be Wake County's #1 site-built shed company, as we have built more sheds in the area than any other locally-owned company. As the Triangle's oldest, locally-owned shed builders, we pride ourselves on our high-quality products and services.
Active in the Community
We love the Raleigh and Durham community. While our children were in school, Rob coached many youth soccer teams, while Tara was a Girl Scout leader for local troops. We have four children that have grown up in the area. Our oldest daughter, a graduate of Martin Community college, is in charge of sales for Carolina Yard Barns. Our son is a graduate of the Wilson Community College Fire Academy and is one of our top shed builders. Our middle daughter is a graduate of Meredith College and is a local realtor. The baby of the family is currently a senior at NC State.
We are members of the Knightdale Chamber of Commerce, as well as the Raleigh-Wake County Home Builders Association. We are also accredited by the BBB with an A+ rating. We have proudly built for NC State University, Wake County Public Schools, The Town of Cary, State Employees Credit Union, the Town of Carrboro, The American Legion, Garner Community Garden, Interfaith Food Shuttle and numerous churches. We have also granted several wishes to the Make-A-Wish Foundation.
Contact Us
If purchasing a high-quality storage building with the best customer service in the Triangle is important to you, give us a call or visit our showroom in Raleigh. We would love to help you get more space for your stuff!